David Finkelstein
Passionate about camp and providing kids with a safe and enriching summer, David brings a wealth of camp and educational experience to the Camp Arrowhead community. David has been at Camp Arrowhead since the summer of 2011 and previously served as the Camp Director at Camp Katonim and Assistant Director at Camp Naorca. He has also run community youth programs at three different Synagogues.
David and his staff are working to plan a summer that will be fun and stimulating for campers of all ages. David feels camp should be a spirited place where kids get to make new friends, try new activities, and build those special memories that will last a lifetime. During the off-season, David is a principal with the Toronto District School Board at Cosburn Middle School in East York. David is married to Rachel and has three children, Jonah, Abby and Zachary.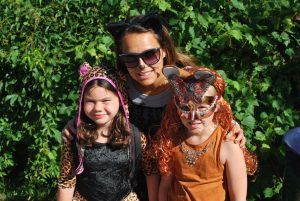 Gilian Horenfeldt-Pomer
After taking a year off to become a mom, Gilian is back and thrilled to spend summer 2018 up at Camp Arrowhead!!
Gilian has been teaching her son, Daniel, all of her favourite round up songs and is eager to share some new ones with all of you. She is excited to take a ride on the new pontoon boat, and check out the new improvements around camp. Most of all, Gilian can't wait to meet our new campers and welcome back the returning ones. Gilian knows the Summer of 2018 is going to be the best one yet and is counting down the days until she gets to swim and soak up the rays on Lake Simcoe.

Our devoted staff are carefully selected for their enthusiasm and desire to create the wonderful camp experiences that our campers will remember. Our Director and Head Staff are made up of people who truly make your children their priority all summer long.
Together with their expertise in education and in children's instruction, Camp Arrowhead is committed to giving your children exciting programming and fabulous waterfront activities in a safe environment which will promote growth in every individual.
To date, staffing for this coming season looks great! We have a large number of returning staff and are looking forward to working with them once again.
If you have friends that might make great counsellors, please have them contact our director David at director@camparrowhead.ca
Click here to add your own text